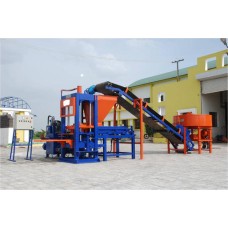 WE manufacturing, trading and supplying Fully Automatic BRICK & Block Making Machine. This block making machine is used in various construction industries for block making. Our block making machine is developed from the finest quality material & contemporary techniques keeping in pace with industry norms. The offered block making machine is accessible in assorted specifications to meet the needs of the customers.
Features:
Less maintenance
Optimum performance
Low power consumption
Specifications:
Main body from HEAVY PLATES & PIPES guide rod will be chromium plated
3 Stroke in a minute
6 Pavers in a Stroke
8 bricks in a stroke
Pan Mixer Details:
Pan Ø: 1500 mm
Side wall height: 500 MM height
Bottom plate: 10 mm M.S.
Side wall plate: 4 mm M.S
Motor: 7.5 h.p ,1440 rpm 3 phase
Power (Load):
Hydraulic: 10 HP
Taper conveyor: 2 HP
Down Conveyor: 1 HP
Vibrator: 2 H.P
Pan Mixer: 7.5 HP X 2 NOS
Total Power: 30 HP
Hydraulic Cylinder:
Ramming: 1 no
Box: 2 nos
Feeder: 1 no
Wooden Pallet Conveyor: 1 no
Total: 1 nos
Conveyor Belt:
Conveyor belt thickness: 8 mm & length 22 foot
P.L.C Control:
Well designed plc control system
Auto pallet function: for hydraulic
Tank capacity for hydraulic oil: 300 litres
Single Layer Feeder box Electrical Plc control panel
Bricks removal: through 10 ft conveyor
Total weight: 3500 kg
Operating pressure: 220 bar-100 ton
Mixing rough material: from pan mixer to conveyor through conveyor to storage box, then storage box to feeder and to auto ram and box
Automatic Fly Ash Brick Making Machine