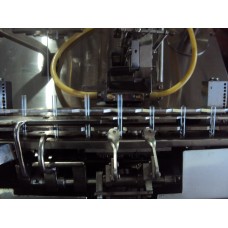 Salient Features
Compact model.

All contact parts made from high quality Stainless Steel 316 & other Non-contact parts made from Stainless Steel 304.

"No Ampoule – No Filling" system.

Ampoule neck centering during gas flushing and filling operations.

Possibility of nitrogen gas flushing before, during and after filling.

Full accessibility allows easy maintenance.

Machine equipped with pre-warming station.

Minimum change over time, little maintenance & easy cleaning.

Onion Skin Ampoule Filling Machine