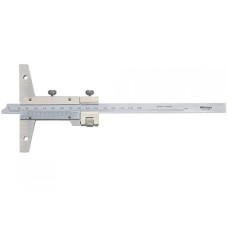 Measurement range for series of 0 up to 1000mm.

Resolution of 0.02mm.

Measurements in fine units with preciseness.

Fine adjustment screw with precise measurements.

Hardened steel with wider extension base.
Brand: Mitutoyo
Product Details:
Type of Material : Stainless Steel
System of Measurement: Metric
Series: Mitutoyo 527 - 101, 102, 103, 104, 105 Depth Vernier Caliper With Fine 0.02mm.
Range: 0.150mm, 0.200mm, 0.300mm, 0.600mm, 0.1000mm With Fine adjustment.
Least Count: 0.02 mm.
Mitutoyo 527 - 101, 102, 103, 104, 105 Depth Vernier Caliper With Fine 0.02mm