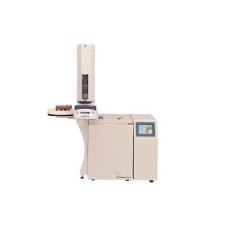 Type : GC-8200
The advantages of the Gas Chromatograph System GC-8200 at a glance.
¼" VGA Touch screen for complete system control & monitoring of the system parameters with choice of mono or color touch screen (4000 colors).
Auto tuning PID temperature control for up to 8 channel with 2 programmable zones & 6 isothermal zones.
EPC for up to 8 channel with 2 programmable zones & 6 single set point control with 0.25% FSD accuracy.
Up to 12 auxiliary device control with 4 step programming for control of GSV, Solenoids, Pumps, trigger, signals etc.
Input status for Pressure, Remote start, Remote Stop, Door open along with 4 additional spare inputs.
Programmable FID (Gain, Off Set, Sensitivity – low, high) with time based sensitivity settings.
Programmable TCD (Sensitivity – Low, Medium, High) with superb current stability & repeatability.
Choices of various Detectors.
Extensive Auto diagnostics & user friendly system control with User settable password protection. Multi mode screens with 6 pages of current status giving complete GC status with option for continuous looping of the system.
Gas Chromatograph System