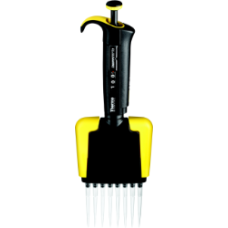 Finnpipette F2 Fixed- and Adjustable-Volume Pipetters are durable and fully autoclavable for everyday pipetting needs.Experience superior comfort, performance, reliability, and repeatability in one of the lightest pipetters available. These pipetters include a Advanced Volume Gearing mechanism (AVG) – a self-supporting modular volume adjustment mechanism that enhances pipetting performance.

Specifications:
Large Ergovisio display with white numbers on black background for increased visibility.
Double-action pipetting button prevents accidental volume changes.
Super blow-out piston with volumes of 50 μL and below ensures delivery of micro-size drops
Fully autoclavable for dependable contamination prevention
ID tag space for personal markings; blank tags supplied with the pipetter Ergonomics
Extremely light and smooth plunger action reduces the risk of Repetitive Strain Injury (RSI)
Lightweight construction enables longer pipetting periods without fatigue.
Soft-touch tip ejector reduces the tip ejection forces by up to 50%.
Wide and supportive finger rest for comfortable pipetting
Ordering Information: Ideal for use with Thermo Scientific Finntip pipette tips, as specified in the ordering table
Includes: Finnpipette F2 pipetter, calibration tool, blank ID tags, shelf hanger, instruction manual and calibration certificate
Variable Volume Range: 0.2-2 ul, 0.5-5ul, 1-10ul, 2-20ul, 5-50ul, 10-100ul, 20-200ul, 100-1000ul, 0.5-5 ml, 1-10 ml.
Fixed-Volume Pipetters: 1ul, 5ul, 10ul, 25ul, 50ul, 100ul, 250ul, 500ul, 1000ul, 2000ul, 3000ul, 5000ul, 10000ul, 20ul, 200ul
Finnpipette F2 Fixed- and Adjustable-Volume Pipetters