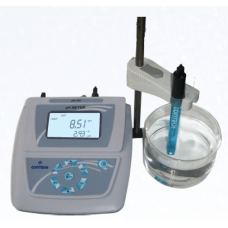 pH/ORP Meter combined with EORP-01 electrode is used for the measurement of pH and oxidation reduction potential (ORP) in liquids. These ORP meters are mainly used in common solution and waste water testing.
FEATURES
pH, Rel.mV and temperature measurement.

Automatic or manual temperature compensation.

3 point pH calibration.

Buffers selectable from 1.68pH, 4.00pH, 4.01pH, 6.86pH, 7.00pH, 9.18pH, 9.20pH. 10.01pH and 12.45pH

Automatic buffer recognition.

Bi directional RS232 interface. Baud rate selectable from 1200, 2400,4800 and 9600.

Single and continuous print out of pH/Rel.mV.

Multiple Printout types. Combinations selectable from Sr. No., pH, Rel.mV, Date, time and temperature.

Real Time Clock. Calibration report as per GLP requirements.

Electrode Slope display.

Memory storage of 100 measurements.

Data logging facility up to 500 results. Data logging interval selectable from 5S, 10S, 20S, 30S, 1M, 2M and 5M.

Temperature calibration with respect to solution of known temperature.

SPECIFICATIONS
pH Range : 0-14pH
pH Resolution : 0.01pH
pH Accuracy : +0.02pH
Temperature compensation : Automatic or Manual
Temperature range : 0~100oC
ORP Range : +2000mV
ORP Resolution : 1mV
ORP Accuracy : +1mV
Input Resistance : >1x1012 Ω
Display : Backlight LCD, Character height
Power : 9V/ 500 mA External adaptor or battery backup unit (Optional)
Operating Temperature : 15~45oC
Meter Dimensions (mm) : 165 (L) x 190 (D) x 60 (H)
Meter Weight : 700 g
ORP Electrode : ORP Combination Electrode EORP-01, Temperature Electrode ETS01
Power : 9V/ 500 mA External adaptor
Operating Temperature : 15~45oC
Meter Dimensions (mm) : 165 (L) x 190 (D) x 60 (H)
Meter Weight : 700 g
Optional Accessories
Magnetic Stirrer MS-01,
Battery backup unit BBEC-01
Calibration Standards
ORP Meter