Brain Cancer Patients Persist Longer by Sending Electric Fields Through Their Heads
Posted by
15/12/2016
0 Comment(s)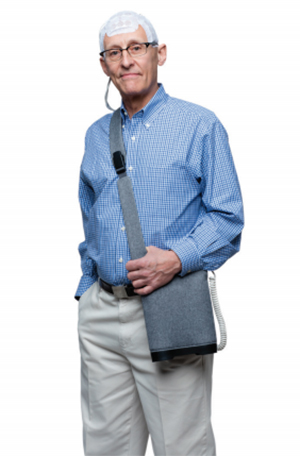 The Optune system for treating brain cancer requires a fair bit of wearable hardware.
The amazing Optune device, discovered by a company called Novocure, can't exactly be called convenient or modest.
Novocure just reforms Optune, decreasing the size and weight of the external field generator and its battery pack. The first-generation generator weighed about 3 kg (6 pounds) and came in a backpack, while the new version weighs 1.2 kg (2.7 pounds) and comes in a shoulder bag. For every few hours, the users need to change their batteries or plug into a wall socket.
Optune users carry their cancer-treating tech with them wherever they go.
Novocure company suggests that the patient has to carry this device 18hrs per day.
For more information: http://spectrum.ieee.org/the-human-os/biomedical/devices/brain-cancer-patients-survive-longer-by-sending-electric-fields-through-their-heads
Author's Bio