Flexible sensor might one day be a heart monitor for decades
Posted by
28/02/2017
0 Comment(s)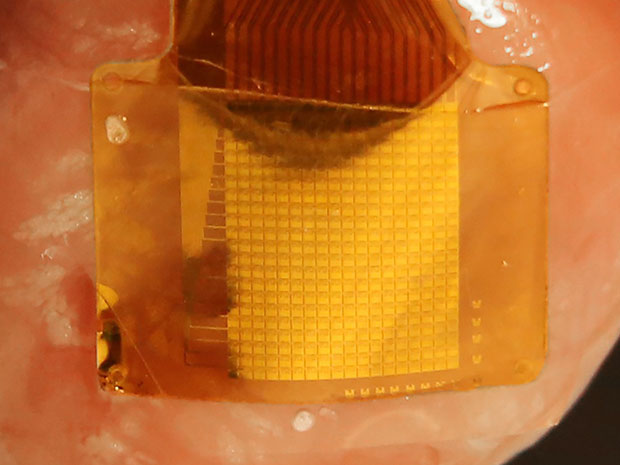 During surgery, a heartbeat doesn't just tell whether a person is dead or alive— it can warn of big problems that come up quite suddenly. Keeping watch for subtle irregularities in the heart's electric activity can help save a patient's life but today's technology can't give as much detail as doctors want, because it degrades too easily—which can cause serious harm to the patient. That's why John Rogers, professor of materials science and engineering at Northwestern University, collaborated with a team of researchers to develop a new type of sensor that is much safer, more refined, and could likely survive in the body about 70 years.
These paper-thin devices are an array of 396 voltage sensors set in 9.5 x 11.5 mm multi-layer flexible substrate that's meant to attach to the outside of the heart, covering a significant portion of the organ. Previous sensors arrays picked up signals through direct contact between a metal conductor and human tissue, but the new array is covered with an insulating layer of impermeable silicon dioxide.
The silicon dioxide is there to solve one of the biggest problems with implanted sensors. Metal conductors corrode and allow biological fluids to leak through, which can lead to a short circuit and have life-threatening impacts, inducing ventricular fibrillation and cardiovascular collapse.
Instead of a direct current running through the sensor, this new model relies on capacitive coupling to read the signals coming from the heart. The heart tissue generates pulses of voltage, which the electrodes sense through the thin layer of silicon dioxide.
Researchers have taken this approach before with passive electrodes, but for an active device with this many elements and large enough to monitor a heart, the added insulating layer has often been too thick for the signal to be recorded effectively. Rogers team managed to make it just right.
To create a layer thin enough to allow a strong signal through, but dense enough to be leak-proof, Rogers and his team made as flawless apiece of silicon dioxide glass as they could. Instead of depositing silicon dioxide directly onto the surface of the patch to seal it, a process that could result in an uneven surface, Rogers and his team grew it on a wafer of pure silicon. Growing it this way led to a smooth, leak-free layer of silicon dioxide. They built the other layers of the sensor on top of that and then peeled it off the silicon wafer.
The researchers ran a series of test to ensure the sensors were flexible enough to adapt to the motion of a beating heart, impermeable enough to prevent leaks, and thin enough to record a strong electric signal.
With a larger surface area and more nodes, the sensors could get big enough to cover most of the body's organs. What's more they will test whether the sensors can both collect data and deliver energy to an organ, like a pace-maker.
On top of that, a larger denser version of the sensor array could prove extremely useful in studying the biology and function of organs–specifically the one that remains the most complex and mysterious: the brain.
For more details: - http://spectrum.ieee.org/the-human-os/biomedical/devices/flexible-sensor-might-one-day-monitor-a-heart-for-decades
Author's Bio