Solar-Powered Graphene Skin Enables Prosthetics to Feel
Posted by
06/04/2017
0 Comment(s)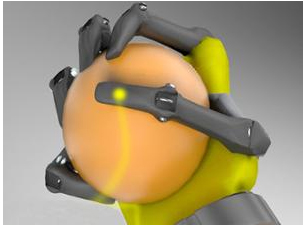 Cochlear implants can restore hearing to individuals with some types of hearing loss. Retinal implants are now on the market to restore sight to the blind. But there are no commercially available prosthetics that restore a sense of touch to those who have lost a limb.
Now, a team at the University of Glasgow that previously developed a flexible 'electronic skin' capable of making sensitive pressure measurements, has figured out how to power their skin with sunlight. The new skin is made of a single layer of graphene—a strong, flexible material composed of a single-atom-thick sheet of carbon—atop a photovoltaic cell. Graphene is not only electrically conductive, it is transparent, so 98% of the light that strikes it can seep through to the photovoltaic cell underneath. The graphene is covered with a transparent protective layer.
The team tested their device on a prosthetic hand. When the skin patches on the skin were enabled, the prosthetic could touch and grab soft objects like a normal hand. But when the skin was not turned on, the hand crushed the objects.
For more details: - http://spectrum.ieee.org/the-human-os/biomedical/devices/solarpowered-skin-for-artificial-limbs
Author's Bio