Synthetic Bacteria Drive New Ingestible Gut Sensor
Posted by
08/06/2018
0 Comment(s)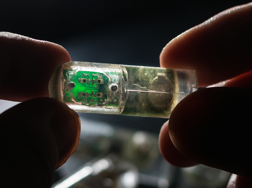 What would you be willing to swallow?" The researchers at MIT have built an ingestible sensor equipped with genetically engineered bacteria that can diagnose bleeding in the stomach or other gastrointestinal problems.

This "bacteria-on-a-chip" approach combines sensors made from living cells with ultra-low-power electronics that convert the bacterial response into a wireless signal that can be read by a smartphone.
The entire device sits in a capsule-shaped cylinder about 1.5 inches (3.8 cm) long. The prototype device was equipped with a 2.7-volt battery that is estimated to offer 1.5 months use.

Initial tests found the device accurately detected the presence of blood in the stomach of pigs, and the researchers have already developed two more bacterial sensors pointing to other potential future diagnostic uses.
This sensor will be eventually used in lieu of colonoscopies, allowing patients to simply swallow a large pill for a day (and, yes, then excrete it) to monitor the health of their GI tract.

It would be interesting to see how it will reduce the size of the capsule sensor and examine how long these engineered bacterial cells can survive.
Source :- https://spectrum.ieee.org/the-human-os/biomedical/devices/synthetic-bacteria-drive-new-ingestible-gut-sensor
Author's Bio