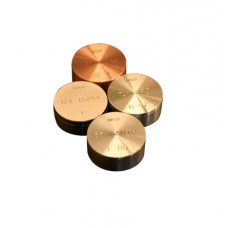 We are one of the major suppliers of Certified Reference Materials which are produced by various manufactures over the world like Brammer Standard Company, MBH Analytical Ltd & Bureau of Analysed Samples (BAS).
CRMs are accompanied by a certificate, one or more of whose property values are certified by a procedure which establishes its trace-ability to an accurate realization of the unit in which the property values are expressed, and for which each certified value is accompanied by an uncertainty at a stated level of confidence. The CRMs are certified by a recognized certifying organization using approved certification procedures as instructed in ISO Guide 35:1989.
They are widely used for calibrating all types of Optical Emission Spectrometers & Atomic Absorption Spectrometers.
Certified Reference Materials for Spectrometer are available in Disc, Blocks, Chips, Powder and Pins form.
CRMs are available for:
Ferrous Metals like Stainless Steel, Low Alloy / High Alloyed Steel, Low Carbon / High Carbon Steel, Tool Steels etc.

Non-Ferrous metals like Aluminium and its Alloys, Copper and its Alloys, Bronze, Nickel etc.

Minerals, Ores, Slags, Coal, Cement, Soils, Oils, Glass, Paper, Refectories etc.

Ferro Alloys like Ferro-boron, Ferro-manganese, Ferro-chrome, Ferro-molybdenum, Ferro-niobium, Ferro-nickel, Ferro-titanium etc.

Physical Testing like Hardness, Tensile Strength etc.
CRM (Certified Reference Material) for Spectrometer Calibration