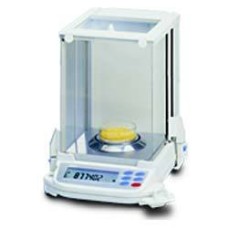 Ideal for all Type of Laboratory & Research Center Zone Industry.
Weighing in Different mode like…carats,grain,mg,pound,ounces,penny weigh,grams,kilograms.

RS232 Computer Interface.

Internal/External Calibration.

Piece counting.

Backlight display.

interval timer output.

Windows Direct also available

Built in Clock & Many more features in above models
Capacity: 50kg-300kg.
Accuracy:1 mg to 0.001 mg.

Specifications
| | | | |
| --- | --- | --- | --- |
| Make | Model | Capacity | Accuracy |
| Shimadzu | AUW120D | 42g./ 120g. | 0.1 mg/ 0.01 mg |
| Shimadzu | AUW220D | 82g./ 220g. | 0.1 mg/ 0.01 mg |
| Shimadzu | AUX120 | 120 g. | 0.1 mg |
| Shimadzu | AUX220 | 220 g. | 0.1 mg |
| Shimadzu | AUW220 | 220 g. | 0.1 mg |
| Shimadzu | AUW320 | 320 g. | 0.1 mg |
| Shimadzu | AUY120 | 120 g. | 0.1 mg |
| Shimadzu | LA203S | 230 g. | 0.1 mg |
| Shimadzu | CPA64 | 64 g. | 0.1 mg |
| Shimadzu | ME235S | 230 g. | 0.1 mg |
| Shimadzu | CPA324S | 320 g. | 0.1 mg |
| Shimadzu | CPA225 | 100 g. | 0.1 mg |
| Shimadzu | ME414S | 410 g | 0.1 mg |
Analytical Balances