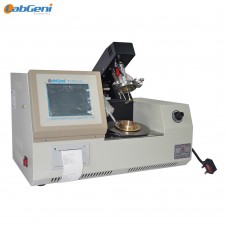 PT-D93-109 Automatic PMCC Flash & Ignition Point Tester is designed and made as per the National Standard of People's Republic of China GB/T261 "Test Methods for Flash Point of Petroleum Products (Closed Cup Methods)". It is suitable to determine closed cup flash point of petroleum products, which is described as the lowest temperature at which the mixture of a petroleum product sample vapor and air contacts flame and makes a flash when the sample is heated in a closed cup under the stipulated condition. And refer to ASTM D93.
Main technical characteristics
1. It adopts colored LCD, man-machine conversation interface, and blank buttons. It has prompts menu and guide to choose method A or B, preset temperature, sample serial number, barometric pressure, test data and other parameters.
2. It can simulate and show temperature-time curve. It has prompts for wrong operation and prompts to modify test data, test time, and other parameters.
3. It can save test data of 100 groups. It is equipped with RS-323, and 485 computer ports, so it can save more test data when it is connected to a computer. Then you can also modify some parameters.
4. It can calibrate the effect of barometric pressure to the test and calculate the modified value.
5. Differential detection. It can modify system deviation automatically.
6. It can open lid, apply flame, make detection, and print test data automatically. The test arm can be raised up and lowered down automatically.
7. It uses an electron igniter for flame ignition. It has forcible wind cooling function.
Technical parameters:
Model
PT-D93-109
Measuring range
Room temperature~300°C
Resolution
0.1°C
Repeatability
≤2°C
Reproducibility
≤±4°C
Measured ignition
Automatic
Lift way
Automatic tilt
Display mode
Color screen
Detection mode
Automatic
Data output
Print
Ignition mode
Electricity, gas
Experimental cup number
Single cup
Operating environment
10-50°C
Relative humidity
85%
Power supply voltage
AC220V
Power frequency
50Hz±5%
Power rate
≤300W
Weight
35KG
Dimension
410mm×360mm×310mm
Automatic PMCC Flash & Ignition Point Tester