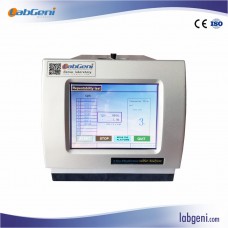 Description:
PT-D4294-01 X-ray Fluorescence Sulfur in Oil Analyzer instrument is specially designed to determine sulfur content in the petroleum products. Adopts energy-dispersive principle, and with integrated design, it is rapid and accurate. It can meet the requirements of National Standard GB/T 17040 and GB/T11140 on repeatability and reproducibility, and it can also meet requirements of ASTM D4294-03 on these indexes. It provides a measure to determine sulfur content during petroleum or petrochemical production process.
Environment pollution is attracting more and more governments and public concern. The cry for protection to ecological environment and atmospheric environment is increasingly louder. The key culprit to atmospheric destruction and pollution is discharge of CO2 and SO2, which are from combustion of power fuels. Lowering down the sulfur content in the gasoline, diesel oil, heavy oils used in vehicles, ships, and airplanes will highly reduce pollution to atmosphere. Europe and our government have promulgated a series of standards on sulfur content of petroleum products to restrict its production and discharge. SO2 may also cause catalyst poisoning in petrochemical industry and form acid rain in the atmosphere.
It can be used to determine
1. mass% of total sulfur in the crude petroleum, petroleum, heavy oil, diesel oil, gasoline, and naphtha.
2. total sulfur content in the products of coal chemical industry, such as primary benzene.
3. total sulfur or sulfide in other liquid or solid powder samples.
Characteristics
Ÿ Electromechanical integration; microprocessor control; 8-inch IPS capacitive touch screen, intelligent operation interface; Man-machine conversation; simple and beautiful;
Ÿ It can determine various products and in a wide measurement range. It is rapid for analysis in 30 seconds and it only need little standard sample.
Ÿ Adopts fluorescence intensity ratio analysis methods, it can make correction to temperature and pressure automatically and it can also make correction to ratio of carbon and hydrogen (C/H).
Ÿ It has self-diagnostic function, so it can determine its working state and electric parameters.
Ÿ It takes disposable sample cell with Mylar film, so it can avoid cross contamination. Sample cell is made by a multifunction pressure device, so it is rapid and convenient. It can record sample serial number, S% (m/m), and date.
Ÿ Automatically select the working curve and automatically stabilize the peak;
Ÿ The sample holder can be precisely located. It can move out from inside of the instrument for sample location and anti-leakage parts replacement. It is convenient and it can avoid any contamination to detection system.
Ÿ Large amount of instrument data storage, the default storage 4096 content analysis results and 8192 count measurement data, 16 instrument calibration results data, You can browse test data and calibration curve at any time.
Ÿ User can select the measurement result unit, m/m % or ppm, to adapt to the user's habits.
Ÿ It uses a thermal printer, so it is easy to replace printing paper. It is needed to speed money on printing ribbon.
Ÿ Equipped with a RS232 serial port, data content, counting, calibration data can be uploaded to the computer or web system
Ÿ Its safe X-ray protection measures can keep people from injury of X-ray radiation.
Main unit and accessories
Main unit (1) Sample cell (2) Leakage protection device
(3) Base of pressure shaping device (4) Cover of pressure shaping device (5) cell film
Comparison between new type and old type:
Model
New
Old
Appearance
Dimension
L×W×H 430 ×260×260mm
L×W×H 468×368×136mm
Weight
11 Kg
13Kg
Display
8-inch wide viewing angle capacitive touch screen
Monochromatic screen
Keyboard
Capacitive touch screen
PVC panel keypad
software interface
Smart, simple, easy to learn
——————————
Software
Customizable and upgradeable
——————————
Judgment of work curve
automatically choose
Operator selection
Working Curve
10 working curves
9 working curves
Unit
Selectable ppm
Or %(m/m)
No choice
Date Saving
Save 4096 content data
1000 can be saved
Data Counting
Save for one month, save even power off
Save for a few days, power off is not saved
Calibration Result Data
16, can be checked and upload
10, can't upload
Analysis Range
S % max—S % min≤ 6%
S % max—S % min≤5%
Peak Drift
Software revision, intuitive, simple and convenient
The adjustment of potentiometers is difficult and cumbersome,not convenient.
Heavy Oil Standard sample
Import Standard
Company confecting
Light oil standard sample
Adopt Ampoule bottle
none
Range of error
Comparable experiment
Comparable experime
Repeatability
Comparable experiment
Comparable experiment
Main technical parameters:
Model
PT-D4294-01
Measurement range
7 ppm to 6%;
Precision
Repeatability: <0.02894 (X+0.1691);
Reproducibility: <0.1215 (X+0.05555);
Sample quantity
2 to 3 ml (it is equal to sample depth of 3 mm to 4 mm);
Measurement time
30, 60, 120, 150s at random; It can make determination automatically for single sample. Measurement times: can set 1, 2, 3, 5, 10, and 50 times at random; it will show average value and standard deviation at end of measurement.
Calibration curve numbers
it can save 10 calibration curves. 5 pieces of them are linear equation in one unknown and 5 pieces of them are binomial parabola.
Working condition
Temperature: 5 to 40 °C;
Relative humidity: ≤85% (30 °C);
Power supply
AC 220V±20V, 50 Hz;
Rated power
50 W;
Size and weight
260mm×460mm×260mm;
NW/GW
11/16 kg;
Packing List
Item Name
Qty
Main unit
1 set
Power supply wire
1 piece
Sample cell (three parts)
200 pcs
Sample cell film (6μm Mylar)
200 pieces in two boxes
Leakage protection device (two parts)
1 set
Multifunctional pressure shaping device (two parts)
1 set
Printing paper (57 mm in width; Φ30mm)
3 roll
X-ray Fluorescence Oil Sulfur Analyzers