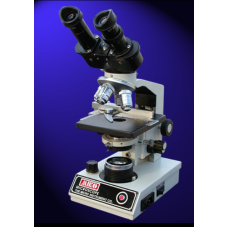 A rigid & heavy stand, observation head inclined at 45 and rotatable in 360 from imported prism to ensure highly accurate collimation for strain free observation.
Revolving nosepiece quadruple is precisely built on ball bearing to provide life long smooth rotation and bring each objective to a perfect position every time for "common field centre" through a built-in positive click stop. Totally dust proof design.
Fixed stage size 120x140mm with precision mechanical stagefor x and y movement of slide upto 50x75mm with graduated scales & verniers ob both sides. Built-in base Halogen illumination system 6v-20w with 2000 working hours lamp life, light intensity is regulated by electronic circuit.
Optics Only best quality objective and eyepieces are supplied to provide finest performance. These are parfocalised and Pre-centered with each microscope after the most stringent test. Achromatic objectives and high performance eye pieces. All Lenses are hard coated for Anti-reflection and reduced Light losses.
Objectives

4x, 10x, 40x (SL) and 100 (SL) oil immersion.
Eye Pieces

Huy 6x and 10x WF (Paired)
Binocular Inclined Research Microscope Model VD-50-A