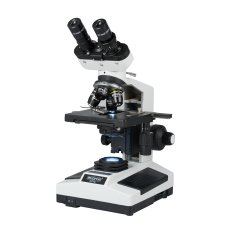 MICRON Brand Doctor's Binocular Research Microscope BINO CXL(ISI, CE Quality)
Micron offers CXL series the newly introduced Economical Design, which fulfills the complete features of a Biological Microscopes with models BINO CXL
STANDARD FEATURES:
Viewing Tubes: BINO CXL Binocular head 45 degrees inclined
Nose Piece: Quadruple Ball bearing Nosepiece.
Mechanical Stage: Low Drive Co-axial control, having X & Y movement of 55 mm & 75 mm.
Focusing System: Co-axial Coarse & Fine focussing with focusing lock.
Condensor: Abbe Condensor N.A. 1.25, with Iris Diaphragm movable on Rack & Pinion.
Built-in Illumination LED with intensity control.
Steeple Grey, chemical resistant, back-on finish
Exclusive preset focus lock prevents damage to valuable slides and objectives.
With dust cover packed in styrofoam packing.
OPTICAL COMBINATION:
EYE PIECE: Wide Field 10X
OBJECTIVE(Achromatic): 4x,10x,40xSL & 100x Oil (P.D.:37MM)
MAGNIFICATION: Upto X1000
MICRON Brand Doctor's Binocular Research Microscope BINO CXL(ISI, CE Quality)