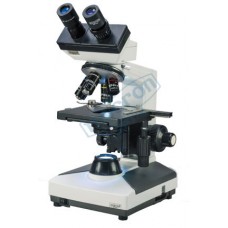 Micron BMC-220 is newly introduced series of education Microscope which extends top quality optics and uncompromising performance for educational and routine research work.

STANDARD FEATURES

1.

45º inclined with 360 degree rotatable binocular tube.

2

Co-axial built in Mechnical stage 125 X 150 mm with convenient coaxial adjustment on ball bearing guide ways for smooth slide manipulation throught 50 X 70 mm.

3.

Qquadruple/quintruple ball bearing revolving nose piece with positive click stops.

4.

Co-axial coarse & fine focusing adjustment knobs. Fine motion, graduated to .002 mm.

5.

Substage Abbe type N.A. 1.25 condenser with rack and pinion, continuously variable iris diaphragm with built in swing out filter holder.

6.

Built in Illumination LED with intensity control. (Battery backup optional)

7.

Steple Grey, chemical resistant, back-on finish

8.

Exclusive preset focus lock prevents damage to valuable slides and objectives.

9.

With dust cover packed in styrofoam packing.
Performance of BMC-220
Objevtive
DIN

Achromatic
4X

Achromatic
10X

Achromatic
40X [Spring]

Achromatic
100X Oil [Spring]

Eye Piece

W.F. 10X / 18 mm (Paired)
Micron Brand Senior Research Biological Microscope - BMC-220