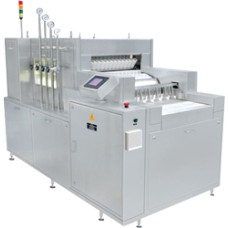 Salient Features
Provides production output up to 120 vials per minute.

All contact parts made from high quality stainless steel AISI SS 316L.

Machine structure & other parts made from AISI SS 304

SS Tanks & trays made from SS 316L by argon welded with round corner.

SS pump made from SS 316L with mechanical seal Monoblock pump.

SS filter housing made from SS 316L.

All Nozzles made from SS 316L.

Special Pocket system ensures easy and trouble free washing of vials from outer and inner side.

Indexing motion makes easier for syringes to move inside vial, when it is in stationery motion.

Washing cycles can be adjusted as per customer requirement.

User friendly machine, even semi skilled operator can operate the machine very easily.

A Special clutch device is incorporated for Stoppage of Machine in the event; vial is over turned or over diameter.

Variable A.C. Frequency drive for Main drive and conveyor.

Pumps with tank (60 litres each) 2 nos.

In feed Wire Woven Belt for feeding of Vials.

HDPE material Vial pockets.

Machine is totally robust and withstands continues operation for long working hours without any trouble.

Machine is equipped with PLC system & printing facility with passwords.

No Change parts are required.

Third Tank & pump can be fitted (optional).

Automatic Vial Washer