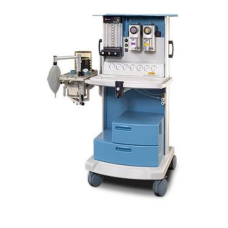 PHYSICAL CONSTRUCTION
Tabular, Rigid Thermostat moulded with large drawer for storage. Four large diame er anti-static castor wheels providing easy mobility. Front castors have brakes.
GAS INLETS
Cylinder yokes: Gas specific , pin indexed yokes with slinding steel clamping bar for O2 and N2O as per model below:
Asteros Lite 1100: 1XO2 ,1XN2O
Asteros Lite 5000/9000/PRIMA :2XO2, 2XN2O
Pipeline inlets: O2, N2O pipeline inlets available in PRIMA and Asteros Lite
PRESSSURE GUAGE
Pressure gauge cylinder : O2 and N2O: O to 250 kg/cm2
Pipeline system : O2/N2O, diameter-indexed (PRIMA)
O2/N2O piping station block with pressure gauge and 5m hose (Optional)
PRESSURE REDUCING REGULATORS
Highly efficient and reliable PRESSURE regulators (2 stage in PRIMA) for O2 and N2O. N2O regulators are activated only if 02 regulators are pressurized. N2O regulators cut off on O2 supply failure
FLOWMETER
4Tube long (230 mm) flowmeters calibrated in double scale for accuracy and clarity in reading.
2gas :O2,N2O,Air(PRIMA).
Anti—hypoxia system: Minimum 25-30% O2 at about 3kg/cm2 (PRIMA)
Scale: O2:0.1-1 LPM , 1 - 1OLPM
N2O:0.1-1LPM,1-10LPM
OXYGEN FLUSH VALVE
3 Self-returning push Button Flow: 35-75 LPM at4 kg/cm2
OXYGEN FAILURE WARNING ALARM
Audio visual Alarm with buzzer and LED indicator,for more than 7 seconds to warn a danger when the pressure of supplying oxygen drops bellow about 2.5kg/cm3
VAPORIZER
Goldman Halothane vaporizer supplied as standard.(Standard with Asteros Lite 1100/5000/9000
Designed to install up to maximum ONE Selectatec vaporizers.(Asteros Lite PRIMA)
VAPORIZERTEMPRATURE COMPENSATED VAPORIZER (Optional)
It is possible to use SELECTATEC Vaporizers of choice:Halothane/ISOFLURANE/ENFLURANE /SEVOFLURANE additionally installed with manifold for SELECTATEC Vaporizers.
Concentration increments 0-2 vol% in 0.2 intervals
2-6 vol% in 0.5 intervals
3 vol% safety lock
Agent capacity :300±10ml
Non-contamination-baffle in the anesthetic agent reservoir can prevent chamber inside from contaminating due to accidental tilting or inverting
Mounting type : Selectatec
Weight : 6kg
CIRCLE ABSORBER SYSTEM
Twin Jar circle system with highest CO2 absorption efficiency. Easy to refill & change the canister during case. In-built APL & Pressure manometer for breath to breath airway pressure display. It will be supplied with LIMBO- circle circuit / Extended Bains Breathing circuit.
GAS ATTACHMENT (OPTIONAL)
Mox regulator with High Pressure Tubing for connecting to 10 Litres H2O capacity cylinder .
FLOWMETER
5 Tube long (230 mm) flowmeters calibrated in double scale for accuracy and clarity in reading.3 gas : O2, N2O,Air(PRIMA).Anti-hypoxia system: Minimum 25-30% 02 at about 3kg/cm2 (PRIMA)
Scale: O2:O.1-1LPM,1-10LPM N2O:0.1-1LPM,1-10LPM AIR: 0.1-10LPM
ANESTHESIA MACHINE-ASTEROS LITE