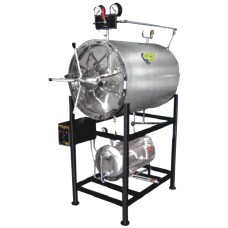 Our horizontal autoclaves are widely used in various bulk laboratories for their day to day studies on scale sterilization procedures where they give dryness of the sterilized medium a paramount importance and for that our sterilized media is prone to various micro-bacterial and viral infections. Having a specialization in customers' requirements we have an expert team of making both standard and customized models
Features
Fully Automatic Programmable

Temp. Range 120°to 138°C. Time 00 To 59 Mins. (or As Per Custom Specs)

2 Line CLCD For Display of Messages And Faults.

Fully Stainless Steel Double / Triple Walled With Chamber And Jacket of SS 304 / SS 316 And Ceramic wool Insulation In-Between.

SS 304 Boiler Tank

M.S. Powder Coated Tubular Stand & Controller Housing

Vacuum Breaker, Pressure Gauge And Spring Loaded Safety Valve.

Condensate Line

"S" or "B" CLASS, Single or Multi Program(s), Power Failure Memory. Self Diagnostic Software. Password Protection & Reporting.

INNER CHAMBER SIZE CAPACITY LOAD
450 X 600 MM 78 LITERS 18.00 KW
400 X 1100 MM 138 LITERS 12.00 KW
500 X 900 MM 165 LITERS 12.00 KW
500 X 1200 MM 220 LITERS 12.00 KW
Cylindrical Horizontal Autoclave