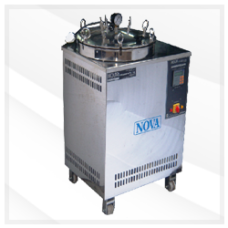 APPLICATION :
"NOVA" FULLY AUTOMATIC GMP MODEL DIGITAL VERTICAL AUTOCLAVE is an asset to Hospitals, Pharmaceutical, Biotechnology, Tissue culture, Bio-Fertilizer Laboratories and Research Institutes, Micro-biology lab., Quality Control & Research Labs with modest sterilizing needs, where contaminated objects require sterilization. We represent most innovative and advanced technologies in our products supported by our most efficient customer support network. For use in Micro-biology lab., Q. C. & Research Labs. – Pharmaceutical Industries etc.
TECHNICAL SPECIFICATION:
Double wall design has single chamber for steam and water.

Fully Automatic operation cycle is commenced by press of the START button.

Initial air purging cycle at the beginning air is automatically removed from the chamber.

Microprocessor based Digital Temperature Indicator Controller Controls Temperature/pressure precisely at set value.

Temperature Sensor : Pt-100.

In built digital timer – timer can be adjusted as per sterilization load requirements.

Automatic steam exhaust at the end of cycle.

Low water level heater safeguard.

Safety high pressure release valve.

Outer cover made of stainless steel 1mm thick.

Lid, flange & bottom sheet also made of stainless steel. All joints argon welded.

Joint less silicon gasket, heavy duty industrial flange heater.

Pressure range : 15 to 22 PSI, factory set at 15 PSI.

Temperature Control : Microprocessor Based digital display.

Temperature Range : 121 Deg. C to 125 Deg. C.

Temperature Resolution : 0.1 Deg. C. Temperature Accuracy +/- 0.5 Deg. C.

Lid fitting pressure gauge 0-30 PSI, safety spring loaded pressure valve, steam release valve.

Hydraulically tested at 60 PSI.

Foot lifting arrangement included for size 18" x 24" & 22" x 30". Not required for lower sizes.

Electrical : 230 V/15 A/50 Hz.

DIGITAL AUTOCLAVE