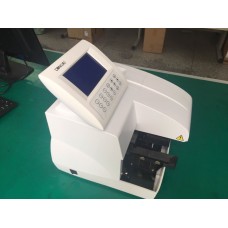 Product Description
- Test principle: Photoelectric colorimetric.
- Visible wavelength: All the visible wavelengths.
- Display screen:5.6-inch real color LCD screen.
- Touch screen input, more humanized man-machine exchange interface.
- Test items: Leukocytes, Nitrite, Urobilinogen, Protein, pH, Blood, Specific Gravity.
- Ascorbic Acid, Ketone, Bilirubin, Glucose, Microalbumin.
- Test speed: 514 strips/hour.
- Memory Size:1000 results, including time and patient ID.
- Data Communication interface baud rate: between 1200 and 115200 bps.
- Language: English and Chinese (other languages can be added according request).
-Optional:10,11or12 parameters.
-Test parameters:Glucose,Bilirubin,Ketone,Specific Gravity,PH,Blood,Protein,Urobilinogen,Nitrite,Leukocyte,Ascorbic Acid,Creatinine,Calcium ion,Microalbumin.
- Units: SI, Conv.
urine chemistry analyzer