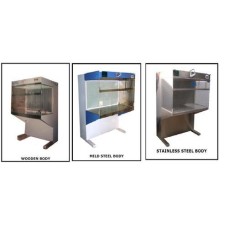 Horizontal Model: The bench is made of thick ply board and reinforced with teak wood necessary. All visible surface are laminated with white decolam lamination. All interior surface are painted with air drying epoxy paint. The filter seat has rubber padding for a perfect rubber to rubber sealing. The work table is covered with white Decolam lamination.
Vertical Model: All other specifications are as per Horizontal Model, except that air flows vertically from top to bottom. The bench is mounted on top of tubular frame. This frame also acts as a work bench. The back of the frame is covered with either laminated board or aluminum Sheet.
Complete with Following Accessories
Stainless Steel table inlieu of summica top.
Transparent front door.
Static pressure manometer.
Ultra Violet Light.
Cock for Gas or Vacuum line.
Laminar Air Flow