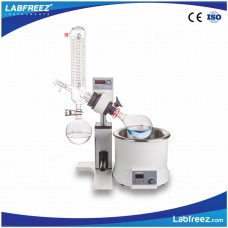 Features - Easy to read large digital LCD screen displays heating temperature, rotation speed and timing- Speed range from 20 to 280 rpm- Large 5L water-oil heating bath with heating temperature range of RT to 180°C- Heating bath with precise temperature control and adjustable safety circuit- Designed a detachable operating panel allows remote control- Patented condenser(cooling surface 1,500 cm²) with excellent cooling effect- Motorized lift with quick-action, automatic release evaporating flask to top position in case of power failure- Adjustable final position recognition to protect operator and sample against breakage- Evaporating flask with an ejector, convenient to remove- Available with timer function to precise control processing- Chemical-resistant double PTFE system and patented pressure spring provide excellent sealing- PC can control and document all parameters via USB
Specifications:
Voltage [VAC]
100-120/200-240
Frequency [Hz]
50/60
Power [W]
1400
Motor Principle
DC brushless motor
Speed Range [rpm]
20-280
Speed Display
LCD
Reversible Direction of Rotation
Yes
Heating Temperature Range [℃]
RT-180
Heat Control Accuracy [℃]
±1
Heat Output [W]
1300
Temperature Display
LCD
Lift
Motor
Stroke [mm]
150
Timer
Yes
Timer Display
LCD
Time Setting Range [min]
1-999
Overall Dimensions [ D×W×H mm]
465×457×583
Weight [kg]
15
Permissible Ambient Temperature [℃]
5-40
Permissible Relative Humidity
80%
Protection Class acc. To DIN EN60529
IP20
USB
Yes
Standard configuration
Model
Descriptions
RE-5PRO
Rotary Evaporator with one set of glassware vertical (1000ml)
Optional items
Cat. No.
Descriptions
Volume
Size
18300117
Evaporating flask
100ml
NS 29/32
18300118
250ml
NS 29/32
18300119
500ml
NS 29/32
18300120
1000ml
NS 29/32
18300121
2000ml
NS 29/32
18300107
Receiving flask
100ml
KS 35/20
18300108
250ml
KS 35/20
18300109
500ml
KS 35/20
18300110
1000ml
KS 35/20
18300111
2000ml
KS 35/20
18300094
Connector
/
NS 29/32, NS24/29
18300095
/
NS 29/32, NS19/26
18300096
/
NS 29/32, NS14/23
18300093
Foam brake
250ml
NS 29/32
18100998
Vapor tube
/
NS 29/32
Rotary Evaporator