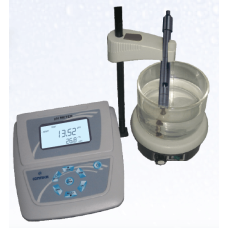 CONTECH INSTRUMENTS
FEATURES
Polarographic type DO electrode offers short polarization time, quick response and precise measurements.




Bi directional RS232 interface. Baud rate selectable from 1200,2400,4800 and 9600.




Single and continuous print out of measuring parameters.




Multiple Printout types. Combinations selectable from Sr. No




Conductivity, TDS, Salinity, DO, Date, time and temperature.




Real Time Clock.




Calibration report as per GLP requirements.




LCD display with Backlight.




Memory storage of 100 measurements.




Data logging facility up to 500 results. Data logging interval selectable from 5S, 10S, 20S, 30S, 1M, 2M and 5M.




Temperature calibration with respect to solution of known temperature.
Conductivity Range : 0~200mS/cm spread into 5 ranges




0.00~20.00µS/cm, 20.0~200.0 µS/cm,




200~2000 µS/cm 2.00~20.00mS/cm,




20.0~200.0 mS/cm




Resistivity Range : 0~100MΩcm




TDS Range : 0~100ppt(g/L)




Salinity Range : 0~100ppt




DO Range : 0~40.00mg/L(ppm)




Temperature Range : -10.0 ~ 110.0 C




Conductivity Accuracy : +1% FS




DO Accuracy : +1% FS




Temperature Accuracy : +0.4 C




ATC Conductivity : 0~50 C




ATC DO : 0~45 C




Conductivity Electrode : ECNG01




DO Electrode : EDO01




Temperature Electrode : Temperature sensor electrode- ETS01




Standard Accessories : Magnetic Stirrer MS-01




Meter Weight : 700 g



Conductivity / Dissolved Oxygen-CCDO