Can Brain Cells Grow on a Chip
Posted by
24/05/2017
0 Comment(s)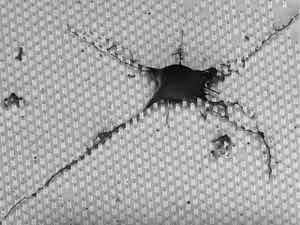 Every human thought starts with a signal traveling from one neuron to another in the brain. Yet we know relatively little about how these connections form. In an effort to watch that process unfold, Australian researchers engineered a nanowire scaffold on a semiconductor chip that enables brain cells to grow and form circuits. The scientists described their device recently in the journal Nano Letters.
The neural scaffold falls far short of any brain-on-a-chip that futurists might imagine. But it does provide a way for scientists to guide the growth of neurons and study their connectivity, says Vini Gautam, a biomaterials engineer at Australian National University who led the study.
That has been a challenge for scientists trying to recreate neural circuitry in the lab. Neurons in the brain connect and communicate in a highly ordered way. But in the lab, the cells tend to reconstruct randomly and suffer from experimental limitations that render the circuitry nothing like the real thing in the brain.
Gautam and her colleagues Chennupati Jagadish and Vincent Daria wanted to create an environment where they could both direct the growth of neurons and allow them to make natural, synchronized connections. So they made a nanowire scaffold made of indium phosphide.
The researchers arranged the nanowires in a square lattice pattern, placed about 50 neuronal cells from rodents on each scaffold, put it in a culturing medium and watched them grow.
After a few days, the neurons had produced outgrowths called neurites. In the brain, these long, thin structures branch out from the cell body and connect with other neurons at junctions called synapses. On Gautam's nanowire scaffold, the neurons shot out neurites that branched across the lattice and appeared to link up with other cells through synaptic connections.
For more details: - http://googleweblight.com/i?u=http://spectrum.ieee.org/the-human-os/biomedical/devices/researchers-grow-brain-cells-on-a-chip&hl=en-IN
Author's Bio