Do you follow these things in laboratory?
Posted by
22/01/2018
0 Comment(s)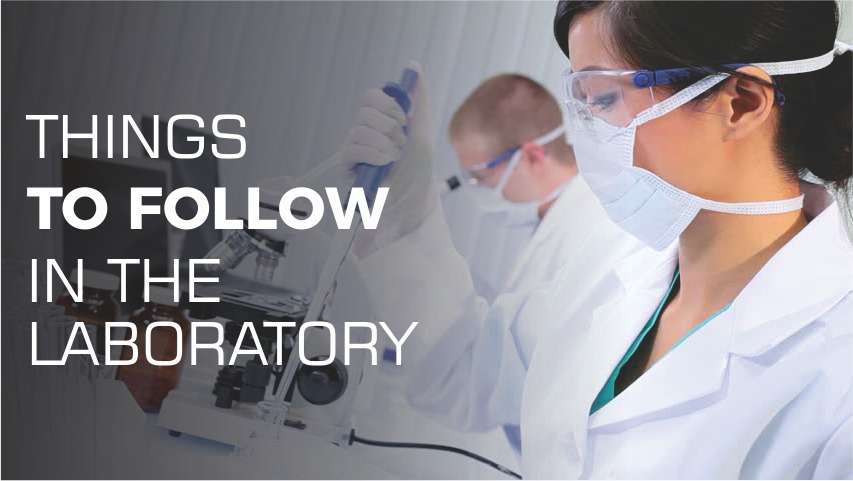 Wear eye protection
Working in a lab can often have detrimental effects on your eyesight. Direct exposure to lasers, hard X-rays, infrared radiations, radioactive radiations etc. can corrode the retina and also lead to permanent loss of vision. Safety goggles made of polycarbonate thermoplastic can block harmful radiations and refract the concentrated laser beams. It also prevents you from accidentally touching your eyes with contaminated hands. Therefore, it is advisable to protect your eyes when working with potentially dangerous equipment.
Read all labels and instructions carefully
By law, all chemical containers and radiation emitting equipment have to be accurately labeled with warning signs with appropriate code from the hazard statement, regarding their carcinogenicity or radioactivity and information on handling and disposing of them. It is also important to properly label the beakers and test tubes containing chemicals, since certain chemicals, for instance, a solution of Sodium Nitrate, is unidentifiable by color or odor.
Dispose of bio-hazardous waste properly
All radioactive waste and corrosive chemicals are biohazardous and are capable of damaging the ecosystem. Washing chemicals down the drain lead them to water bodies thus polluting the oceans, whereas, dumping untreated waste in landfills can contaminate the soil affecting the vegetation growth of the entire areas. Therefore, it is important to discard laboratory waste responsibly.
Practice fire safety and first aid
All organizations and institutions conduct fire safety drills regularly to ensure that their employees are fully aware of the procedure to be followed in case of emergency and can exit the premises safely. We are all taught first-aid in school as "the first help provided to the victim before the medical aid arrives." More often than not, it is first-aid that prevents further damage to the victim and even saves their life.
Know emergency procedures
Though running down an exit for a mock emergency might seem tedious, especially when you're in the middle of an experiment, repetitive participation in safety procedures helps train your brain to act quickly in time of need. When you know the exact procedure to follow during an actual fire or accident, instead of panicking, your brain will be able to respond to the situation and provide the required aid to the victim. If you're unsure of any step or protocol confirm it with your supervisor to be safe than sorry.
Author's Bio