Pre-Vacation Check for Lab Scientists
Posted by
25/12/2017
0 Comment(s)
We all need vacations. Some time away from our work-a-day lives to shake off the jaded feeling of monotony so that we can return to our routine with a new vigor and energy to do what we do best. Here are some tips for a pre-vacation checklist: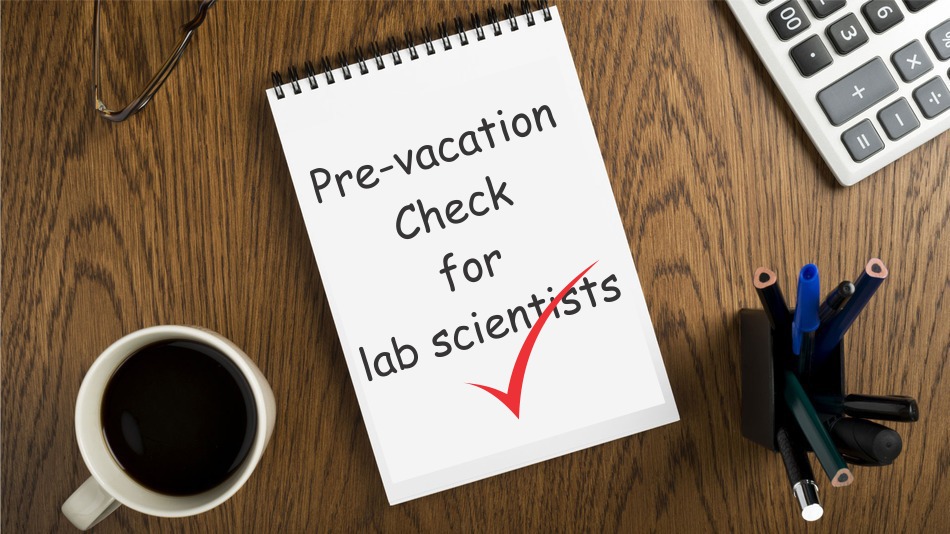 Plan ahead -

If you are a scientist or a researcher make your plans in advance about the time, and duration of your holiday, your place of accommodation and how long you will be in transit, in case you are traveling

. This will help you in planning your experiments well in advance and bring them to a conclusion in time.
Inform your co-workers -

It is very important to inform your co-workers in advance about your intended vacation so that necessary measures can be taken at the time of your absence. Also, if you are in the middle of an experiment or study and cannot conclude it, provide exhaustive information and written documentation to your colleagues regarding your projects and if possible deputize a colleague to take important decisions on your behalf.
Leave contact information -

Going on a vacation is never easy. We need to account for the things we leave behind. For instance, our pets, our kids, and even our ongoing experiments. Make sure to leave every form of contact information possible with your colleagues. Your lab is your responsibility.
Clean out your lab -

The most important thing to keep in mind is to clear out your lab before leaving for the holidays-be it Christmas or long overdue vacation. Do not leave running experiments when you can conclude them. And always dispose of the residues properly, making sure you store all your equipment and chemicals in a safe place away from harm.
Author's Bio