Scientists Store Video Data in the DNA of Living Organisms
Posted by
16/07/2017
0 Comment(s)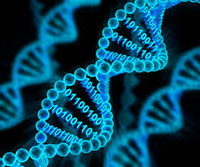 The bacteria E. coli might sometimes make us sick, but they have served as a workhorse in science. They teach us about DNA and produce ingredients for drugs and fuel molecules. Now E. coli can claim one more skill: They can store our digital data.
In a report published today in Nature, Harvard researchers demonstrate that it is possible to archive images and movies in the DNA of living E. coli cells.
Researchers are continually developing more efficient ways to store digital data. DNA, the building blocks of life, emerged in the mid-1990s as a potential medium. DNA is, after all, just a code—chemicals symbolized by the letters A, T, G, and C—and it can pack a lot of information into a very small space.
The idea has gained momentum over the last five years. Harvard scientists in 2012 encoded a book in synthesized DNA, and researchers in March reported that they had stored 200 megabytes of data in it—likely the largest amount yet. Even Microsoft has been storing data in DNA. But until now, no one had encoded data right into a living organism, says Seth Shipman, a neuroscientist at Harvard who led the experiments. "That's much more difficult," he says.
Shipman and his colleagues encoded into E. coli's DNA an image and short movie using the gene editing technology CRISPR. The movie, a 36 x 26-pixel GIF of one of the first moving images ever recorded: a galloping mare named Annie G., by Eadweard Muybridge. Shipman and his colleagues retrieved the image and movie with about 90% accuracy using DNA sequencing technology.
For more details: - http://spectrum.ieee.org/the-human-os/biomedical/devices/scientists-store-video-data-in-the-dna-of-living-organisms
Author's Bio