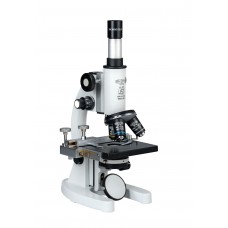 This Compact Reliable Microscope incorporates some of the most effective of Micron Optical Techniques. The Accurate and practical design of this instrument has resulted in a greately enlarged extension of its applications in laboratories, universities and hospitals.

STANDARD FEATURES

1.

Mechanical tube length of 160 ± 1mm.

2

Fixed square stage 120mm x 120mm with detachable or built in graduated mechanical stage.

3.

Dust proff triple revolving nose piece with positive click stops.

4.

Focusing by coarse and fine adjustment with scale.

5.

Substage Abbe type N.A. 1.25 condenser with iris diaphragm & swing out filter holder focusable by Rack & Pinon.

6.

Illumination by plano concave mirror in fork mount.

7.

With dust cover dully packed in styofoam case.
OPTICAL COMBINATION
EYE PIECES

OBJECTIVES

MAGNIFICATION

5X & 10X & 15X
[Huygenian] any Two

X10 & 40 S/L & 100 Oil
[Achromatic]

X100 - X1500
MICRON Brand Pathology Microscope KG-5(ISI, CE Quality)